Top vBlog 2017 Voting has begun!
It's that time of year again – time to vote for your favorite blog and podcast!
Just as he has every year, Eric Siebert from vSphere-Land.com has kicked off voting for the 2017 Top vBlog and will remain open until June 30th 2017! Eric has also made a few suggestions on what to keep in mind when voting which I certainly agree with and can be found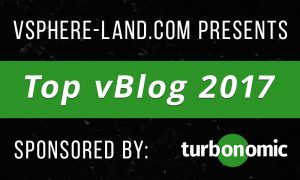 I'm honored to not only be listed upon this list of bloggers but to have made the Top 100 last year. I want to thank Eric Siebert for all his time and work put into making this possible and to Turbonomic for sponsoring this event.