VMware Update Manager U3e upgrade failing? Un-install it!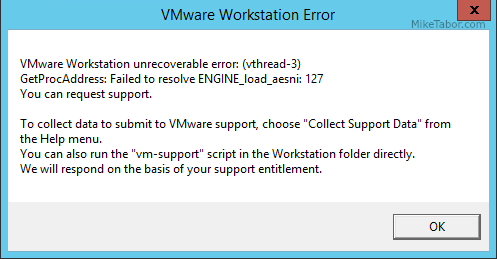 I was recently upgrading a VMware environment from vCenter Server Update 3b to Update 3e and during the scheduled change I had also planned on upgrading VMware Update Manager to Update 3e and ran into the following error:
VMware Workstation unrecoverable error: (vthread-3)
GetProcAddress: Failed to resolve ENGINE)load_aesni: 127
You can request support.
Looking for a possible solution at the VMware Knowledge Base came back with no results and to error message wasn't overly useful either with "VMware Workstation unrecoverable error: (vthread-3)" as Workstation wasn't installed on this server.
I've upgraded VUM plenty of times without any issues and even Update 3e detected Update Manager was already installed and prompted me that it was going to upgrade it:

So in theory the upgrade should have worked just fine, but even still the error at top continued.
How to upgrade VMware Update Manager to Update 3e
Lucky for us the fix is quick and easy – simply un-install VUM.
Un-install the existing VUM instance.
Re-run the VMware Update Manager U3e installer and install VUM as normal.
Your settings and baselines will not be effected as they are stored in the database and so long as you tell the installer to use the existing database all that information will be there after you re-install Update Manager Update 3e.
An easy fix for a very useful program! If VMware provides an alternate fix I'll be sure to update this post.