VMware Workstation 11 released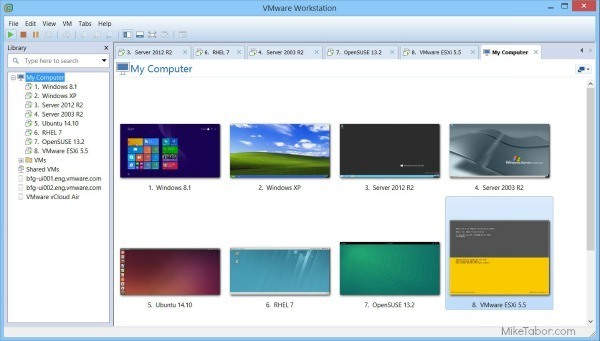 At the start of October VMware announced Workstation 11, along with VMware Player 7 Pro and said both products would be available sometime in December. Well today is the day, VMware has now officially released VMware Workstation 11!
Workstation 11 adds support for the latest version of Windows and Linux, as well as the latest processors and hardware, and also adds the ability to connect to VMware vCloud Air.
Key VMware Workstation 11 features
Ready for Windows 10 Technical Preview as well as Ubuntu 14.10, RHEL 7, CentOS 7, OpenSUSE 13.2
Supports the latest Intel 64-bit x86 processors, including Haswell. Taking advantage of key new Haswell extensions, also delivers up to 45 percent improvement in CPU intensive operations like multimedia and encryption/decryption compared to Workstation 10.
Create virtual machines with up to 16 vCPUs, 8 TB virtual disks, 64 GB memory, and now 2GB video memory.
Ability to connect to VMware vClount Air which allows you to upload, run, and view virtual machines right from the VMware Workstation interface.
New System Requirements: While 32 bit operating systems are supported inside virtual machines, VMware Workstation 11 and Player 7 Pro require 64 bit processor and 64 bit host operating systems for advanced computing and enhanced performance.
VMware Workstation 11 can be purchased for $249.99 and upgrades from Workstation 9.x and 10.x to VMware Workstation 11 will cost $149.99 at VMware.com.
VMware Workstation, 30% discount!
VMware kicked off a "Cyber Monday" promotion, on Dec 1th, 2014, offering a 30% discount on VMware Workstation 11, VMware Player 7 Pro, VMware Fusion 7 and Fusion 7 Pro. This offer ends however on Dec 5, 2015 at 11:59pm PST!
This brings the price down on VMware Workstation 11 to $174.99 and $104.99 for the full and upgrade versions respectively.