Edit Virtual Hardware 10 VM's with vSphere 5.5 U2 client
When ESXi 5.5 came out so did a new virtual hardware version, 10, as well. However the ability to edit virtual machines have have been upgraded to virtual hardware 10 was restricted to only the vSphere web client. In some cases people have put off upgrading to virtual hardware 10 either for dislike of the web client or knowing you cannot edit the VM in the event of the web client being down.
That all changes today, VMware has just released vCenter 5.5 Update 2 today and one of the "resolved issues" in today's release notes is the ability to now edit virtual machines with Virtual Hardware 10 using the vSphere thick (C#) client.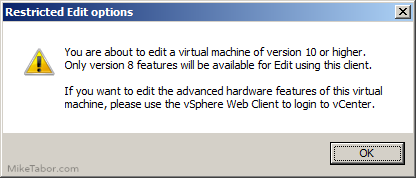 All you need to do is install the latest vSphere 5.5 Update 2 thick client to enable this function. This feature is NOT dependent on your environment (vCenter or hosts) running 5.5 Update – just install the vSphere 5.5 U2 client!
Once you have the new vSphere client installed, simply click on "Edit settings" on any VM using virtual hardware 10 and you'll first be prompted with the above message and then displayed the Edit virtual machine settings window. Then you can again edit vCPU, memory, NIC, etc settings.