VMware Workstation 12 Pro Released
VMware has just released a new version of Workstation in VMware Workstation 12 Pro. Workstation 12 Pro provides full support for Windows 10, including features such as Cortana and universal applications. As well as even larger virtual machines with up to 16 vCPU's and 64GB of memory. Workstation 12 Pro even supports 4K displays and DirectX 10 and OpenGL 3.3
You can even seamlessly drag and drop virtual machines between your PC and your internal cloud running vSphere, ESXi or another instance of Workstation. In addition, easily connect to vCloud Air and upload, run, and view virtual machines right from the Workstation 12 Pro interface.
VMware Workstation 12 Pro Features
Built for Windows 10 – Easily install Windows 10 in a virtual machines and test out features like Cortana the personal digital assistant, inking capabilities in the new Edge web browser, or even start building Universal Apps for Windows 10 devices. VMware Workstation 12 Pro also supports Ubuntu 15.04, Red Hat Enterprise Linux 7.1, Fedora 22, and many more. You can even create nested hypervisors to run Hyper-V or VMware ESXi and vSphere to build up the ultimate vSphere lab for training.
Powerful 3D Graphics – VMware Workstation 12 Pro supports DirectX 10 and OpenGL 3.3 to deliver more responsive and fluid user experience, even while running demanding 3D applications like AutoCAD or SOLIDWORKS.
4K High Resolution Displays – Support for high resolution 4K UHD displays to provide crisp and detailed experience. VMware Workstation 12 Pro also now also supports multiple monitors on the host with different DPI settings, run your 4K display along your 1080P display.
Monster Virtual Machines – Create VM's with up to 16 vCPUs, 8TB disks, 64GB of memory and even up to 2GB of video memory.
Latest Tablet Hardware – VMware Workstation 12 Pro allows you to take advantage of the latest Microsoft Surface tablets with Workstation's virtual accelerometer, gyroscope, compass, and ambient light sensor to enable applications running in the virtual machines to respond when a user moves, rotates, and shakes their tablet.
Enhanced Connectivity – Workstation 12 Pro now supports USB 3.0 in Windows 7 besides Windows 8 for ultra-fast file transfers with external storage devices. In addition Workstation 12 Pro improves performance of Skype or Lync conference calls within guest virtual machines so you can conduct crystal clear conference calls from your virtual machines
Compare VMware Workstation 10 and 11 to Workstation 12 Pro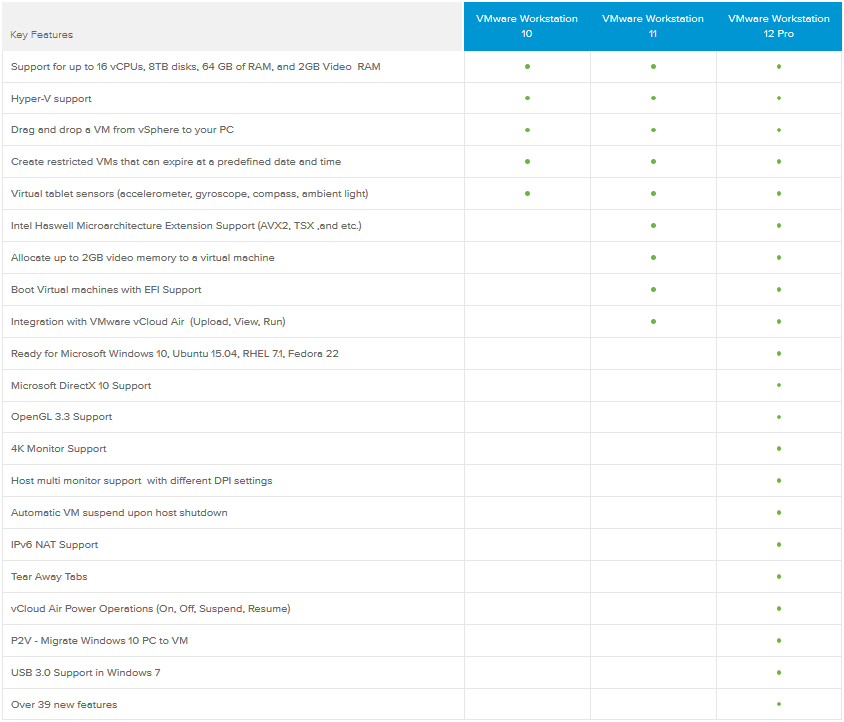 VMware Workstation 12 Pro will cost $249.99.