VMware vSphere 6.5 has been released as general available and earlier this week I posted about Installing VMware vCenter Server Appliance 6.5 as a new install, this post will walk through upgrading an existing vCenter Server Appliance 6.0 to 6.5!
Similar to a fresh VCSA 6.5 install, the VCSA 6.5 upgrade is also broken up into two stages. The first stage is deploying a new vCenter Server Appliance and the second stage is copying data from the 6.0 VCSA to the newly deployed 6.5 VCSA.
How to upgrade vCenter Server Appliance 6.0 to 6.5
If you haven't already, go ahead and download the VCSA 6.5 ISO and lets get started. It's also a good idea to check the VMware Interoperability Matrix before performing any upgrade.
Stage 1 – Deploying vCenter Appliance 6.5
Mount the ISO and start the vCenter Server Appliance 6.5 installer located at \vcsa-ui-installer\win32

The introduction shows what I stated above, that the VCSA Upgrade is broken up into two stages – deploy and then copy data. Click on Next.

Accept the End User Licence Agreement.

Enter the FQDN or IP of your existing 6.0 VCSA as well what host the existing VCSA resides on, along with all the login credentials.

Now enter the ESXi host you want the new VCSA 6.5 appliance to be deployed.

Enter the name you would like for the appliance VM to be called as well as set a root password.

Next, select the deployment size that best matches your environment. For the home lab I'm selecting Tiny.

Select what datastore you want the VCSA 6.5 appliance to be stored.

Configure a TEMPORARY network identity. Once Stage 2 of the upgrade has been completed the 6.5 VCSA will take the network identity of the old existing VCSA.

Stage 2 – Copying data to VCSA 6.5
That's it! If all goes well and after a few minutes the vCenter Server Appliance upgrade should complete and you should see the following screen.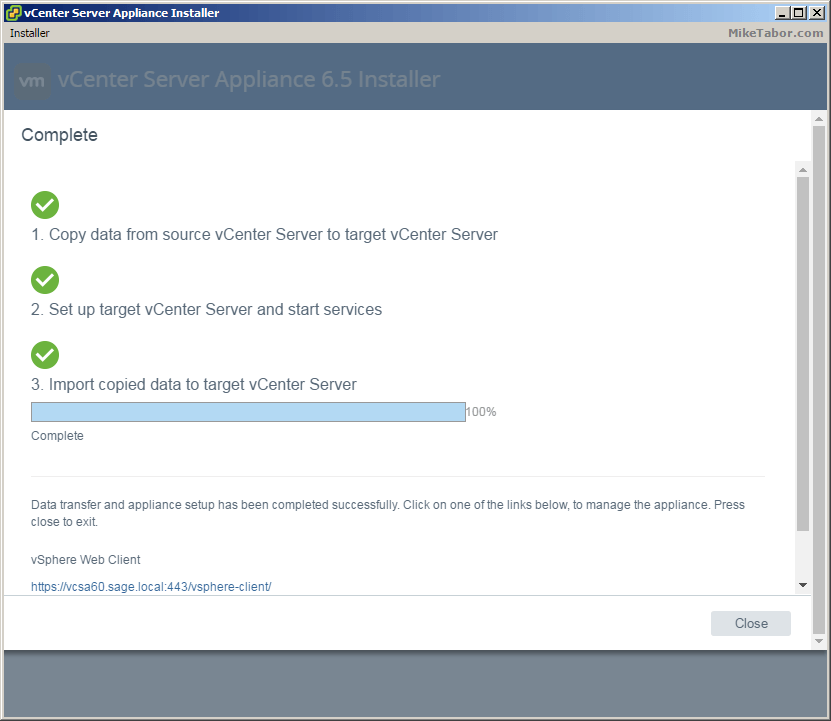 Simply log into the web client by going to: https://<VCENTER_IP>/vsphere-client and start enjoying vCenter Server 6.5!
If you would like more details about vSphere 6.5 check out the VMware vSphere 6.5 release notes here.