How to Replace a Failed Hard Drive in a Synology NAS
Earlier this week I received a notification from my Synology NAS that a hard drive was failing. Right now in the middle of this COVID-19 pandemic, one thing I don't need is my NAS down and the kids and wife unable to watch any shows or movies.
Luckily for me Synology has made drive replacement a breeze. Here is how to easily and very quickly replace a failed hard drive in your Synology NAS.
How to replace a failed hard drive in your Synology NAS
The first step is to identity the hard drive this is failing. Open the Synology Storage Manger and click on HDD/SSD on the left. Here you can see that Drive 5 was failing on my Synology NAS:

Now go to your Synology NAS and remove the failing drive and replace it with a new hard drive. I decided to replace my failing drive with a new Western Digital RED 4TB HDD.
At this point your Synology NAS Storage Pool will likely be in a "Degraded" state. It may even be beeping, if it hadn't already. This is normal until we start the repair – so lets do that.

In Storage Manager click on "Storage Pool" on the left and then click on Action > Repair:

Confirm the hard drive you're going to use to repair the Storage Pool and click on "Next".

Click on "OK" to acknowledge that any data on the new drive will be erased.

Finally, click on "Apply" to confirm and start the repair.

At this point the pool will perform its repair and the new disk should be reporting as Normal. A much better sight then the Failing state it was in earlier. :)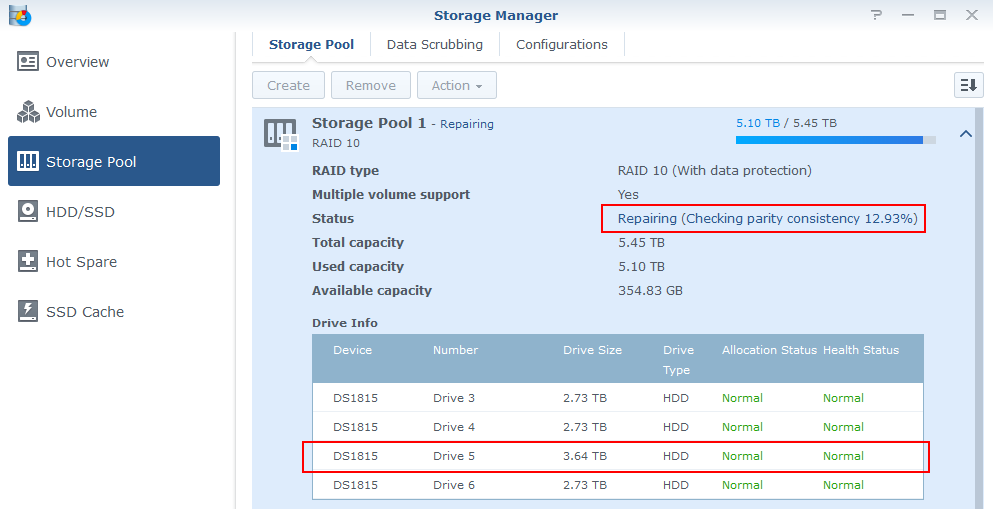 Quick and easy, and in the case of my Synology 1815+ I didn't even have to power the NAS down!